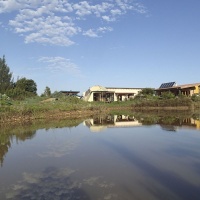 In 2007 I met Sepp Holzer in Tamera and began a three-year training in "Holzer-permaculture".
Since then I have been caring for and cultivating the terraced gardens around Lake 1 – the first lake we created in Tamera with Sepp Holzer.
My 30+ years of experience of living and working with nature and humans led me to "bioenergetic gardening". I usually teach it through month long education times during the gardening season in Tamera. Now I am called to branch out, to offer workshops in other places in Europe.
My childhood
I grew up in a farm at the edge of the Vienna Forest in Low-Austria. The first four years of my life I spent with my grandmother in her vegetable garden, surrounded by tall trees and the sound of a babbling creek. This sound stayed with my soul until today. I am a father of twin sons, David and Marcos born in 2001.
My education
In addition to a life of farming I received a Masters of Agriculture & Forestry degree – three years of study at a technical school for Agriculture & Forestry and three years of practice. I completed an internship in biodynamic farming and bio-organic gardening in Switzerland.
My search
When I was 17, I found Hatha Yoga, and on my own began to learn this life long practice. In 1997 important life questions led me to the Peace Research Project Tamera –
www.tamera.org
How can we elevate the identity of the gardener in cultures where it is considered a ′profession for the poor′?
How can we develop new tools as healing bridges linking the body of the earth and the body of the gardener? And how can bioenergetic gardening help to create healing foods?
How can gardening be integrated into a social space for all people to find their unique contact with the garden?
I developed a meditative and contemplative spiritual practice to balance my work and whole life. A part of my ritual is "Ho′oponopono" (forgiveness practice originating in Hawaii) and the universal Jesus Prayer. Yoga teachers regularly visit Tamera and have complemented and furthered my education.